Kami says it's possible to write about Bob on his earthday without sounding off at his widow who now has so much conflict. Here's a try.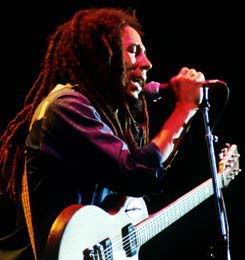 Ode to Bob, Owed to Bob
Bob, what would Jamaica be
If you were never born to we?
From Reggae to Dancehall, Deejay to Rap,
Jamaica woulda hardly deh 'pon de map!
What would Jamaica do were it not for you?
Win few Olympic race, then retreat into "A who?"
We all know, if you were never there,
We'd be ackee bidout saltfish, an' so-soh dry bulla bidout de pear.
Even now yu spirit chants in warm, vibesy tones
Singing, "Please don't yu rock my bones!"
But some still determined fe rock yu bones.
Them say it don't matter where yu bury
Because that can't change where yu did born,
But Jamaica fightin' to keep yu restin'
Forever within its arms.
We give thanks an' praise to Father God
For his blessed gift named Bob.
Happy Earth-strong, Bob!